poor planning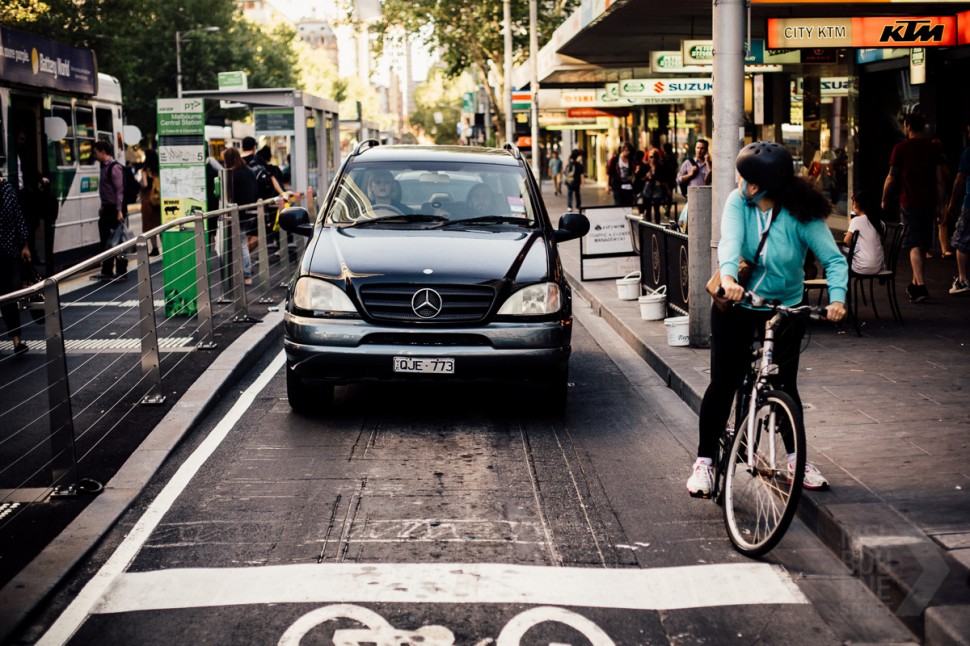 Elizabeth Street used to be my thoroughfare of choice by bike through the city. It never had particularly good bike lanes, and it could get a bit hairy in peak hour, but it is by far the flattest route through the city, has a great exit out to the north, and, outside of peak hour, offered enough room to ride comfortably at a good pace.
Then the superstops were built.
A full city block long, these behemoths are edged with massive bluestone bricks and leave a single skinny lane for all other road users. I understand the advantages these stops bring, and they are way overdue, but did they have to take up an entire lane? Was there no option on a skinnier design?
There is now regularly bike-car conflict wherever these stops are, as cars get frustrated that they cannot pass commuting cyclists, and cyclists feel squeezed out and threatened.
Council will point to the multimillion dollar works on Swanston Street that have created a popular bike corridor, but I think this is just as poorly planned – the conflict here is created between cyclists and tram commuters. Cyclists often sprint between lights trying to get ahead of the string of trams, while tram commuters are forced board and disembark in the bike lane. What genius came up with that?
Add to this what seems to be the shortest light sequences of any street in the CBD (I have no evidence for this, feels that way though), a relatively poor road surface and the noticeable gradient (compared to Elizabeth Street), and Swanton street isn't a great option either.
If you're in a real hurry, you can travel the length of Russell Street stopping at just 1 red light – the lights are sequenced for car travel and if you can keep up, you're through!
It's pretty dangerous though, and at peak times, well, forget it.
So for now, I'm riding William Street. It's a pretty sweet run once you're up the hill and affords nice views of Flagstaff Gardens on the way past. I hope the planning department get this one right when they eventually turn their attention to it.
Just quickly on the East-West run through the city – why wasn't Bourke Street used as the primary cycle lane through the CBD rather than La Trobe Street? It has less traffic, less gradient, more appropriate retail/laneway areas that cyclists love (including a pedestrian mall) and far more space.
What's your preferred cross-city route?