Melbourne Street promoting Melbourne to Germany… Ahhh, what?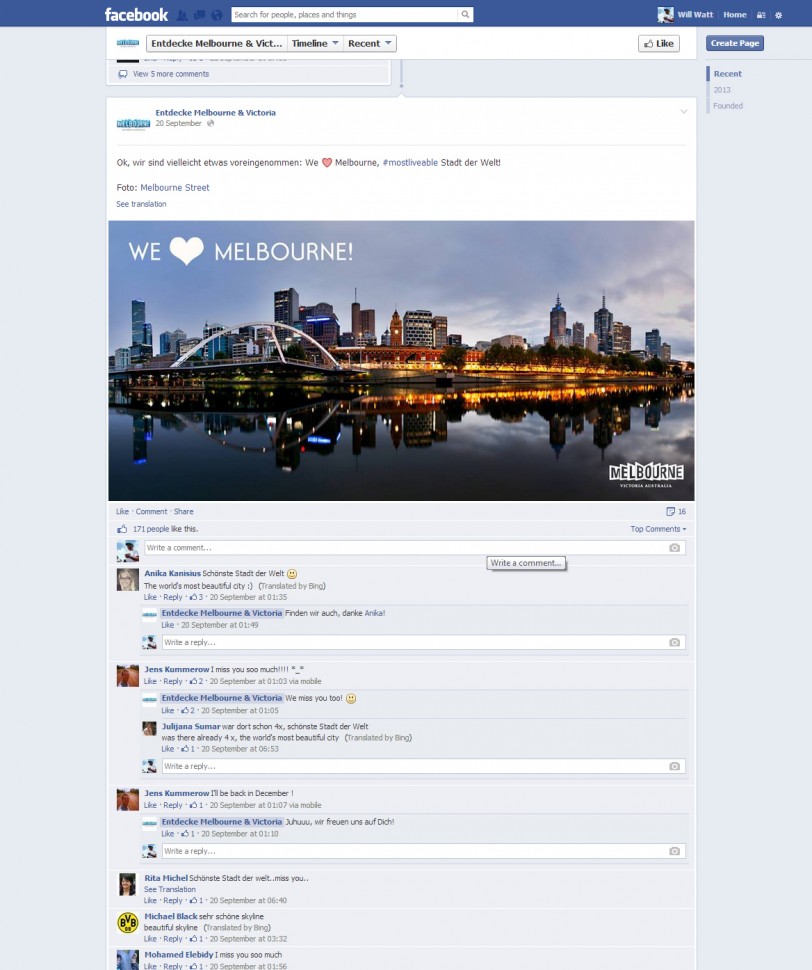 Today I came across my photo on the Facebook page of Visit Melbourne's German site – Entdecke Melbourne & Victoria – posted around the time Melbourne was announced as the World's Most Liveable City.
The original photo was posted on Melbourne Street 5 months earlier:
Although they have placed a credit link to the Melbourne Street Facebook page, I wasn't asked whether this image could be re-posted from the Entdecke Melbourne page. I have an agreement with Tourism Australia that they occasionally share my work, but it is always with permission and direct email communication. But for me the most frustrating aspect was to see the image had been altered with some tacky text and had the official MELBOURNE logo added. Say what?!
If this photo was re-used like this anywhere except Facebook, say on their official website, it would be obviously unacceptable and blatant copyright infringement. In print, I would send a healthy invoice.
So what makes Facebook so different? This is an official page for Visit Melbourne with over 400K followers. The photo received 171 likes and 16 shares (their best performing post for some time), which by my reckoning means it was seen by some 10,000+ Facebook users. On the day of the post there was zero referring traffic to the Melbourne Street Facebook page or website. As much as I love Melbourne (and that's a lot) and it's kind of nice to see my images appreciated, I don't want to promote anything without first giving permission for use, and an agreed payment or recognition would be proper. Is that fair enough?
For a more in depth look at the issue, Lexy Savvides interviewed me for this great article about Photographers Copyright earlier in the year.
Have you had your work used without permission across the internet?